First-Time Homebuyer–It's exciting–you are almost there!
Congratulations! The day you've been waiting for is in sight.
You've been working hard on getting your new home. Just a couple more steps… but they are significant ones!
Why a Homebuyer Education Course?
Good question.
It's OK. This isn't about you.
Before the Great Recession, sometimes mortgages were being issued to anyone who could fog a mirror (and a few that couldn't).
The new TILA (Truth in Lending Act) and RESPA rules (Real Estate Settlement Procedures Act), administered by the CFPB (Consumer Finance Protection Bureau) updated in 2013 and 2017, are designed to enhance the original rules passed in 1974. These are consumer protection acts to help homebuyers understand what you are getting and to what you committing. Combined, they are called TRID (TILA-RESPA Integrated Disclosure). These protections mean you will get a series of disclosures before closing.
In a recent survey by NeighborWorks, approximately 74 percent of adults said they strongly or somewhat agree "the homebuying process is complicated," up from 67 percent in 2016* and 70 percent in 2015*.
It's so complex that our clients commonly comment a preference to have taken the course at the start of home buying:
"I wish I had taken this course prior to starting my search for a home."
D. Voss, Puyallup, WA ⭐⭐⭐⭐⭐
"In my opinion, this course should be offered before even looking at houses."
C. Schulman, Milford, OH ⭐⭐⭐⭐⭐
"I really liked the course and I wish I took it at the very beginning of my journey to homeownership."
A. Degtereva, Charlotte, NC ⭐⭐⭐⭐⭐
As a first-time homebuyer, you've made hundreds of decisions. There are still extremely important ones to be made.
This online homebuyer education course is designed to help you make informed choices and sustainable plans.
Why a HUD-Approved Agency Homebuyer Education Course?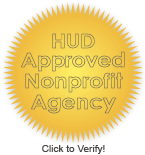 Simply because your lender has good standards. HUD (US Department of Housing and Urban Development) sets very reasonable expectations of essential training: What to expect at closing, details about home mortgages, the closing process, home maintenance, financial planning, and many others.
The online homebuyer education course meets all of the same HUD requirements of the "workshop" or "in-person" classes.
To verify our HUD-approval status view our listing on HUD's website, by clicking here.
This course also meets the standards of NISHEC (National Industry Standards for Homeownership Education and Counseling). This set of standards extend HUD's guidelines for quality homeownership and counseling services. These standards help practitioners and organizations serve families and communities with consistent service and professional excellence. Your new home is likely the largest investment you will ever make. Your home and future are worth the added security of such standards.
When will I get my Homebuyer Education Certificate?
Following the completion of the course, there is an interview with one of our certified advisors. We'll review the course results, your input, test results, cover any questions you may have, solicit feedback, and get your certificate email d to you and your professionals right away.
Plus, you will get your free extras: Personalized Action Plan, Home Inspection Checklist, Final Walk-Through Checklist, and Closing Process Checklist.
Does the course involve tests or quizzes?
Yes. You can take the tests repeated times. The tests are not timed. If you don't pass, or you want to get a higher score, you have the ability to review the preceding material. You do have to have a passing score to achieve certification.
As standard in many education courses, you are asked about your level of knowledge before starting a focus area. This is done to measure how much you've learned through the course. It also lets you know what you will be expected to learn from the material that follows.
"I believe the course was excellent and very informational. The thing that I liked the most was that the quiz questions were given throughout the course and while the answers were still fresh in my mind, rather than waiting until the end the course for the final exam. This way no one panic before the final for the fear of failing."
J.Hampton Peoria, AZ ⭐⭐⭐⭐⭐
How long is the homebuyer education course?
The course content is the same as an in-person class or workshop. Typically, when combined with the advisor interview, it takes about eight hours.
Frequently, individual students progress faster and complete it in less than eight hours. They might be familiar with the content, learn more quickly, answer quizzes faster, among a host of other reasons. Just be sure to allow time to complete it before any deadlines. It will take a minimum of four hours in any case.
How long do I have to complete the course?
We recommend that the course is completed as soon as possible, but there is no time limit. Most complete the course in one day and nearly all complete the course within one week.
How long is the certificate valid?
The certificate has no published expiration date. However, there are some lenders that want to see that the course has been completed in the last 180 days or six months.
What is the cost of the course?
The price of the course is $65. Our research has shown that this is the least cost of any national homebuyer education course provided by a HUD approved agency.
How Do I Take the Online Course?
Start the course by clicking the Start My Course button below. Then you enter your information, pay for the course ($65, the lowest nationally available price), and start with the first module.
The course is available all the time: 24×7. You can start, pause and resume as you wish. When you log in, you will be signed in at the place where you left off.